Top 100 Spiritual Influencers for 2014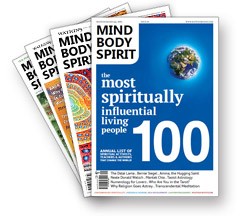 Top Spiritual 100 Influencers for 2014 The British Mind Body Spirit magazine, Watkins, has published the Top Spiritual 100 for 2014.
This is a comprehensive list of the most influential people from around the world.
Based in London, UK, Watkins is the oldest spiritual bookstore in the world. "The magazine dates back to 1893, when John Watkins published his first volume of the Book-Notes, which included book reviews, occult news and excerpts from recommended books."
At the top of the list is the Dali Lama, with second place going to Echart Tolle and third to the newly-elected Pope Francis. Watkins says there are a number of factors that are taken into account every year when assembling the list.
The major 3 requirements are:.
1) The individual has to be alive as of January 1st, 2014.
2) The individual has to have made a one-of-a-kind spiritual contribution on an international scale.
3) The person is regularly googled, appears in Nielsen Data, and is actively talked about and commented on throughout the Internet. By taking into consideration the amount of times that an individual is googled or how many times their Wikipedia profile is viewed, the list obtains an extremely democratic worldwide specification. In a sense, being googled is a kind of digital ballot, and illustrates just how frequently someone is being sought out.
The Dali Lama is certainly a worldwide figure of huge influence.
On his recent visit to Vancouver, 20,000 people came to an outdoor stadium to be in his holy presence and to learn how to live an enlightened life. The whole Buddhist tradition he is a head of has contributed for centuries to the realization of thousands of enlightened masters. With their radiant high consciousness these masters are a catalyst for greater peace, love and compassion among human kind.
With his best seller book "The Power of Now" Eckhart Tolle has inspired millions of people to live a life in truth and clarity. He has also partnered with Oprah Winfrey on a course titled "In a New Earth" that has reached millions of North Americans with its guided meditations and teachings on how to live a fulfilling life in each and every moment.
I suspect that Pope Francis was chosen because of the radical shift he is representing in the Catholic Church. He is taking the church back to the basics: the selfless love and compassion of Jesus Christ that was the inspiration of the Church and Its mission in the first place.
With 1.2 billion Catholics in the world, approximately 20% of the world's population, Pope Francis has the unique opportunity to effectively contribute to the elevation of human consciousness.
"A culture of encounter demands that we be ready not only to give, but also to receive. […] The internet, in particular, offers immense possibilities for encounter and solidarity. This is something truly good, a gift from God." - Pope Francis
To read the full story you can look here: http://www.watkinsbooks.com/review/watkins-spiritual-100-list-for-2014
We are actually happy to show you information on Spiritual Life Coaching. So kindly come back for more details. This Spiritual Life Coaching opens remarkable doors for you in terms of individual development. We highly suggest you examine back in to see what brand-new information we can show you.