New Course! How to Increase Joy, 21- day online program.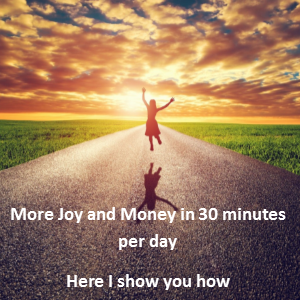 Hi there all!
I am excited to announce the release of my online course, Increase Joy.
As you may know I have been operating a very successful online course called "Increase Bliss" that takes 7 weeks, bringing transformation in important aspects of our life including wealth, health relationships and even the difficulties that arise in life.
A number of people who took that course asked me if I could develop a course that was shorter, 21 days, but still punchy, simple, effective and powerful.
Increase Joy is the result. You need 30 minutes a day for 21 days, and you will be amazed by how effective it is.
I even came up with an enticing bonus that creates a monetary incentive for you to take the course and complete it.
Please check it out here:
Thanks!
There is an added reward for joining in the next 7 days.
I have just created a new service, which is daily Astrology updates to keep you aware of how to take advantage of planetary movements, and what to do to ride the cosmic waves blissfully. That normally costs $120 a year but if you join Increase Joy it joyfully joins you.
Here is more information on the course:
Increase Joy is a 3-week online course that is designed to increase your love of life. Each week has a different subject we focus on. The subjects include: developing core strength, handling difficulties, and joyful relationships.
In this course you dedicate 30 minutes of your day to your personal growth, 20 minutes in the morning and 10 in the evening. The assignments consist of series of exercises that will help you become the conscious creator of a joyful life, by fostering joy creation, reflection on snags, developing tools to overcome.
Daily assignments consist of 5 short exercises devoted to creating more joy in your day, that take a total of 20 minutes and in the evening there is 5-10 minutes of reflection time to note what took you out of joy the most, and what to do to improve on that.
Support materials include:
2 text message reminders to your phone every day
1 e-mail daily with a short survey for you to complete and submit
A private membership site with all the course materials, including weekly videos and meditations
A Facebook group where you can post your updates
Two 20-minute consultations with Martyn by phone, in person, or via skype